Curating
"The Lovely Wild"
Submissions Due Mar. 3rd, 2019

Open call up now for a show I'm co-curating with Frank Sabatte!
Submissions due March 3rd at Midnight (EST).
"Looking out into a wilderness, not knowing where you are headed, where we are headed. Artists, if they are to be artists, must go into that wilderness and have conversations, conversations where all involved are changed such that the wilderness is no longer fearful but hopeful; not a place of terror, but one of peace."

Info at openingsny.com
Artist Talk
@ Sheen
Center
Oct. 10th, 2018 (7 - 8:30 pm)
Gallery at The Sheen Center
18 Bleecker St,
New York, NY 10012
A Sheen Center-Crossroads Cultural Center Event
"Art Fears"
Talk

Oct 3, 2018
6:15 pm EST

Live stream from
The Sketchbook Project
"Art Fears" Artist Panel with The Sketchbook Project
Tune in via Facebook or Instagram to watch the live stream of an artist panel discussion I'll be taking part in with The Sketchbook Project founders at The Brooklyn Art Library. We'll discuss some of the common fears that prevent people from making art.

Watch the recording on:
Facebook


Find The Sketchbook Project on Facebook and Instagram.
Solo Show
@ Sheen
Center
Sept 13 - Oct 12, 2018
Reception: Sept 13, 6-8 pm
Artist Talk: Oct 10, 7-8:30 pm
(In Gallery)
Gallery at The Sheen Center
18 Bleecker St,
New York, NY 10012
The show is presenting work on a project that I have been researching and building during the past three years. Barabbas's Garden examines how growth occurs while a person is constantly affected by environments, decisions, circumstances, and the intersection between the self and others. The obsessive medium of free-stitch embroidery/tapestry here merges with the unstable and ambiguous quality of wood lithography and the intimate sound of the human voice in an interactive exhibition. This combination of mediums allows viewers to enter into the confusion, polarity, and intensity of desire present in the act of repeatedly "being" the identity that we have of ourselves, and of experiencing others' identities.
Hand-pulled wood lithographs prints from the "Who Are You?" Interviews are now available for sale online!
This variable edition series of prints was created from sketches made during private interviews Jenn Cacciola conducted with participants during an artist residency at the Sheen Center For Thought & Culture in Manhattan as part of research for a large-scale multimedia "audio tapestry" installation. The interview questions centered very personally on the interviewees' experiences and identity. Audio segments from these interview recordings became part of the soundtrack played from behind a large-scale multi-layered tapestry that depicted an anthropomorphized forest. The project sought to allow the voice of those traditionally excluded by the "jargon" of the art world to narrate and inform Cacciola's work directly. The oral history volunteered by participants in this project will be engaged with in communities outside their own as the piece travels to various exhibition locations. The prints give a face to the anonymous voices heard in the tapestry's audio during exhibitions, and imparts the feeling of searching onto the viewer.
The rarely-used process of Wood Lithography (or Mokulito) was the method of choice for these prints due to the highly variable prints it produces which struggle to hold their images clearly against the wood grain that appears from the printing plate. During the post-print drawing process that is used on some of the prints, Cacciola reacts to the different visual dynamics that occurred in each print and uses these variations to explore the numerous "personalities" expressed in each portrait. This is one way of acknowledging the limitations in what could be known about these interviewees from the 2-hours she spent with each of them.
Visit the Saatchi Art Page
Support the Current Project
My current project is a large-scale, multi-layered tapestry piece that involves audio interviews as a "soundtrack" to the piece. The project seeks to question how growth occurs while a person is affected by environments, decisions, circumstances, and the intersection between self and others. The tapestry, along with an interactive recording booth and large-scale portrait prints of some of the interviewees will be exhibited in Manhattan this September.
The project is now in its ending stages, and I need your help! Visit the Indiegogo or Hatchfund page below to learn about perks for contributions and how the funds will be used. Each contribution goes toward the equipment and materials necessary for bringing together the elements of this project (interviews, portraits, and the tapestry) so that together they can be what they were meant to be.
"Dark Nostalgia"
Group show @
con artist
collective
May 21-25, 2018
Reception: May 23, 7-11 pm
Con Artist Collective & Gallery
119 Ludlow St,
New York, NY 10002
Open Monday through Saturday 11-7pm
A show dealing with the dark side of Americana. This show was inspired by the recent work by John De La O utilizing 40s and 50s pulp illustration. Exploring macabre imagery within the context of Nostalgia. Classic American imagery with a dark twist. Flyer Artwork by: John De La O
Average Art Magazine
Copies available in print
on February 15th, 2018.
Call for
participation!
Open Call research for
Barabbas' Garden ends
Dec. 15th, 2017
Interviews held at the Sheen Center for
Thought & Culture
18 Bleecker St,
New York, NY 10012
I'm excited to begin the interviews that will inform my current large-scale, multi-layered tapestry piece that employs audio interviews and other recordings as a "soundtrack," projecting from the piece during exhibitions. I will be conducting personal one-on-one interviews and creating portraits of volunteers, that will be an essential part of research for the piece. Anyone can volunteer (the more diversity, the better)! The project seeks to question how growth occurs while a person is affected by environments, decisions, circumstances, and the intersection between self and others, using ecological/botanical metaphor for human growth in various social environments. Open call registration will end on Dec. 15th in order to begin interviews with local partnering organizations, including Year Up New York and Rehabilitation Through the Arts.

The interviewee will sit down one-on-one with the artist and will be asked a series of questions relating to their personal experiences, while being drawn by the artist. The session will be recorded by video and audio, though the video will not be used in the final artwork. Sessions are usually about 2 hours long.
Instagram #whoareyouinterviews
Facebook @whoareyouinterviews

To get involved as an interviewee:
Work on view
at East Village
NYPL art fair
Dec 13, 11 am - 8 pm

Tompkins Square Park Library
331 E 10th St
New York, NY 10009
Come by the library anytime between 11 am - 8 pm on December 13th for performances, workshops, and displays by local artists. I'll have Farewell to the Highlands tapestry among other works on view.
Noli Me Tangere
on View at BRIC
Nov 16 - Dec 17, 2017
Reception: Nov 15, 7-9 pm
Gallery at BRIC House
647 Fulton Street
Brooklyn, NY 11217

Tue - Sat, 10am-6pm; Sun, 12-6pm;
closed Mondays
(FREE Admission)
We all know that Art is not truth. Art is a lie that makes us realize truth, at least the truth that is given us to understand. The artist must know the manner whereby to convince others of the truthfulness of his lies.
~ Pablo Picasso
We live in an era when truth is under assault. In a time of alternative truths and truthiness, we ask that you show us your truth.
What is real and true for you?
I'll be taking my research from Manassas National Battlefield Park to the Sheen Center in NYC for a three-month residency to continue work on my next big multimedia tapestry project, Barabbas' Garden. Stay tuned for information on the Fall 2018 exhibition in the center's upgraded gallery space following my residency. I'll be taking interviews and making studies again for the piece, so don't hesitate to register if you'd like to participate!

7 Stations of Limbo
on View at Church
of St. Paul the Apostle
Sept 8 - Oct 26, 2017
Reception: Thursday, Sept 14, 7-9pm
Artist & Curator Walk-Through:
Thursday, Oct 12, 7-9pm
The Church of St. Paul the Apostle,
405 W 59th St, New York, NY 10019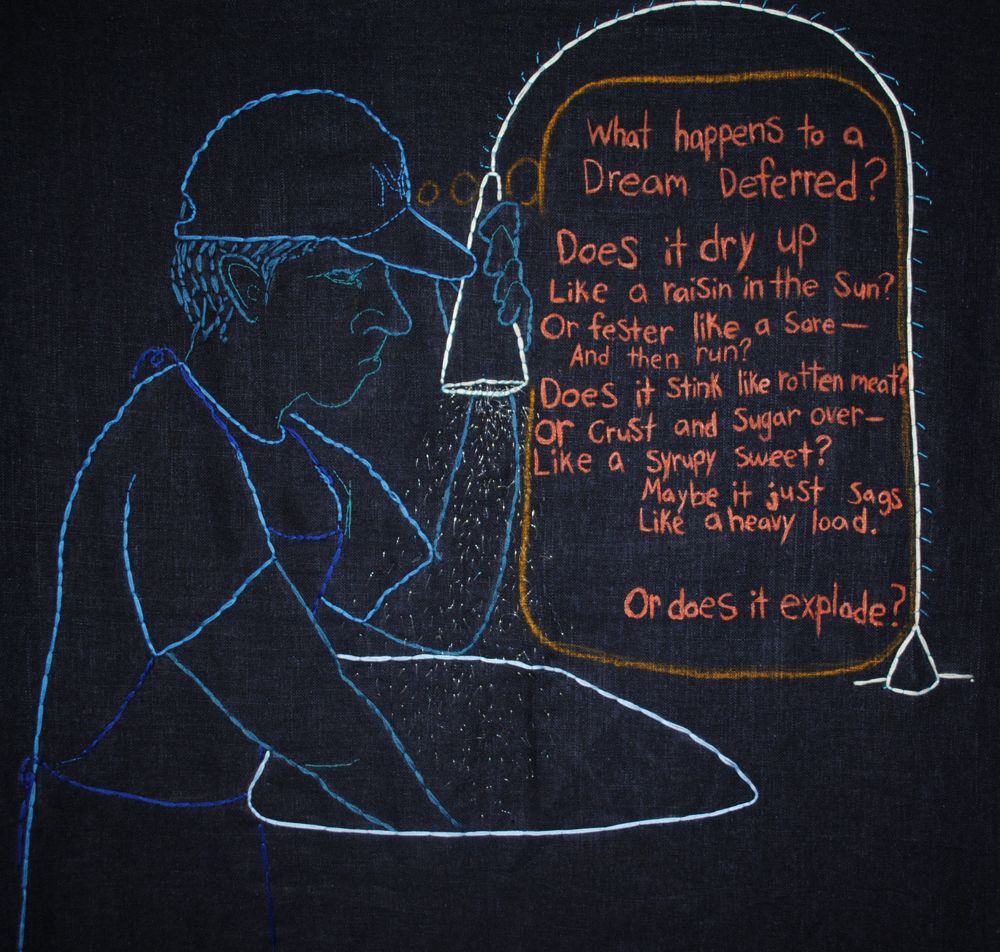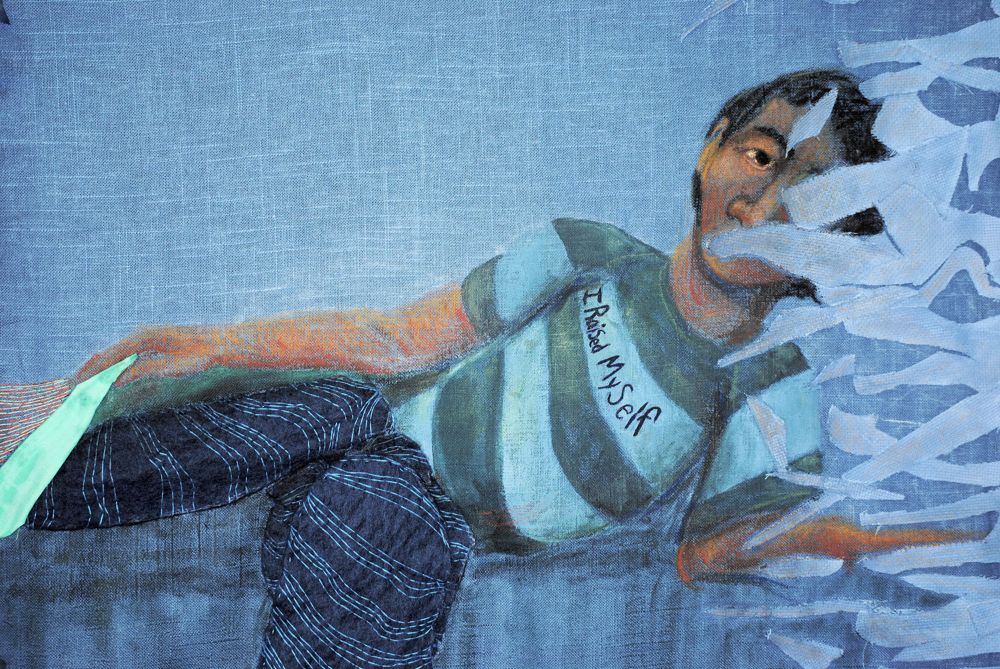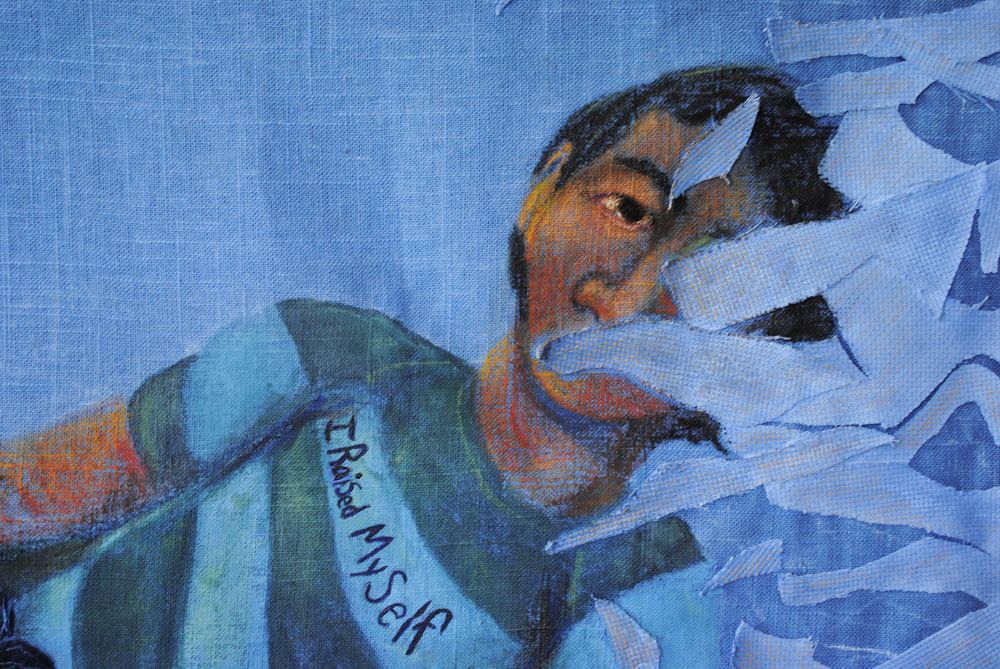 Selected details from 7 Stations of Limbo, 2017. Embroidered assorted fabric, yarn, acrylic paint, oil pastel. 3.5' x 12.5'
From August 25th to September 6th, I will be in residence at the location of the first and second battles of Bull Run of the American Civil War. I'll be talking up visitors, taking audio interviews for my new piece, Barabbas' Garden, roaming the grounds and doing lots of sewing! If you're in the area, make sure to stop by...there may even be a community-wide fabric collage workshop!

The Choir
Installation
ON View
at Metropolitan
Pavilion
On View Jan 13 - Jan15, 2017

Metropolitan Pavilion
125 W 18th St, New York, NY 10011
Face-to-face meetings with the photographers in the exhibit space:
Tony Vaccaro:
Saturday, January 14, 11:00 a.m.
Marcello De Masi:
Saturday January 14, 2:00 p.m.
Carrie Boretz:
Sunday, January 15, 4:30 p.m.
Call for
participation!
Project, "Reality Has Never Betrayed Me"
Deadline: January 10, 2017
CALLING ALL MILLENNIALs!
What does the phrase, "Reality Has Never Betrayed Me," mean to you?
My current installation project needs your stories!
I will be producing a sculptural installation work that seeks to offer a cross-section view of the Millennial's experience of the above statement. If you are interested in contributing to this project, please use the Dropbox link (https://www.dropbox.com/request/RrvrafVzOQzljmtWcWEW) to submit an audio or video file (Audio: WAV, WMA, MP3 M4A, Video: AVI, MPG, MPEG, M2V, MP4, M4V, MOV, WMV) where you are providing some insight into what this phrase means to you, and whether or not it has proved to be true in your life. These files will be played through the sculpture in pairs. Please label the file "FIRST NAME.LAST NAME," or as "Anonymous." Any amount of detail is welcome and appreciated in the interview you are contributing. Providing a concrete experience as example of your interpretation and verification of this statement's validity will be essential to the piece's communicative strength. The final installation piece will be on view Jan. 13-15th, 2017, at the Metropolitan Pavilion. Thank you for your participation!

Feel free to email any questions to jenncacciolastudio@gmail.com!
Please submit interview files before January 10th, 2017.
Brooklyn Artists Come to Saugerties
Oct 7 - Oct 31, 2016
Reception: Friday, October 7, 2016 5-9PM
Emerge Gallery & Art Space
228 Main St, Saugerties, NY 12477
Emerge Gallery & Art Space, is pleased to present 96.8 Miles: Brooklyn to Saugerties: A Group Exhibition of Artists From Brooklyn. Over a dozen artists currently living in Brooklyn, NY, are participating in this exhibition. 96.8 Miles will be exhibited from October 7 - October 31, 2016, with areception on Friday, October 7, 2016, from 5-9 PM as part of Saugerties' First Friday. Work will be simultaneously available on-line at www.emergegalleryny.com.
The Hudson Valley has a long history in the world of art—it has an art movement named after it—and the area is rich with artists, both of name and emerging. The yearly Saugerties Artist Tour has been growing each year in attendance and participation, and this year an impressive forty artists of various disciplines opened their home studios to the public for visitors to experience Saugerties and the rich artistic diversity inside it's borders. Like many of the small towns in the Hudson Valley, Saugerties is currently experiencing a renaissance. There are reasons why Budget Travel Magazine recently named Saugerties one of "America's Top 10 Coolest Towns." In a two block radius, one can find two independent bookstores, art galleries, farm to table restaurants, clothing stores, chocolate shops, home good stores, antique venues, and a independent movie theater. Visitors will also be pleased to discover a lighthouse that also acts as a bed and breakfast, a beach, a horse stadium, and Opus 40— a majestic 6 1/2 acre sculpture park fashioned out of a blue stone quarry.

The artwork included 96.8 Miles is a collection of various mediums and styles and represents a number of artists including Jenn Cacciola, Ross Carlisle, Natsumi Goldfish, Mickey Hoover, Jessica Lipsky, Marjorie Magid, Christina Massey, Sally Novak, Janet Pedersen, Mari Renwick, Colby Sadeghi, Marysia Schultz, Fury Young, and others. Emerge Gallery is excited to be introducing these artists to the Saugerties community.